Great Family Trip with Water Fun
But it is much more than a RV park!
We enjoyed our time at this wonderful setting overlooking the Guadalupe River. It has the benefits of a state park, with a natural playground and the plush accommodations of an Rv park (ie. water, electric & septic at the site). The slots are roomy, bathrooms nearby. The added difference of this place, they keep it immaculate! The staff was always working to clean up trash and debris.
I love the hills surrounding the campsite!
she's ready!
We arrived Memorial Day, after the large holiday crowd had just left. The staff spent the next day raking any trash left behind. The grassy areas did not have burrs,
mostly
, which is important since we tend to go barefoot. The Rv area we stayed #185 & 186 had a green common space perfect for the kids playing football or Frisbee. The slots were deep up to a fence overlooking the river (safe for kids to play). The staff allowed us to have as many tents we wanted on the slots, so our tent camping friends and overflow of kids stayed right behind us.
We rented tubes from Lazy L&L and floated down the river with options up to a six hour float to pick us up, with rates better than a trip down the Comal River in New Braunfels. It's better too in that you have the River to yourselves.
Water shoes - the difference between fun and mobility without pain
Friends easy to make on the river
Always bring a football or volleyball, something to keep kids in motion
Just down from our spot, the best rapids we went over on the Guadalupe, with a beach and calm water for all to have fun in.
Even the little ones.
Here is where you can see how some of our group made it better for the kids.
Our common area had a good set up for fire pit for s'mores and rosary prayed by firelight led by kids from each family
Schlitterbahn in New Braunfels
In our opinion - the best water park
Our secret is to come the last week in May - just after Memorial Day. That week most schools aren't out, but college kids are ready to work. So no lines on most water park rides.
New this year, what I call the lazy man's tubing experience: The Falls with the
Aquaveyer
You don't have to ever get out of your tube - there is a conveyor belt to bring you back to the top. If you can get over feeling like a doughnut: being squished together before the conveyor, it is very fun. The biggest downfall: No shade like the Comal River tubing just below this ride. Our friends were floating by on the River while we were at the park. Second day passes are a deal. The price alone is steep, but there are deals to save $20 off an adult ticket. (adds up when buying of a group.) Plus you can bring in your own food and drink (NO GLASS!). My meal planing husband has had a successful idea of cutting cheese, sausage, fruit and pickles a head of time, for a quick snack as the run through the rides.
Now the Comal River has it's pluses:
Its refreshingly cold, it has chutes that make it more interesting. But to repeat the old Camp W shoot, the city of New Braunfels charges a $5 band to repeat. Add that to the cost of tubes and Schlitterbahn isn't that outrageous. For most of us growing up in Central Texas, we remember the chute and waterfall at old Camp Warnecke. It is still as fun and dangerous as you remember:
I liked this vintage look of long ago Camp Warnecke- linking tubes.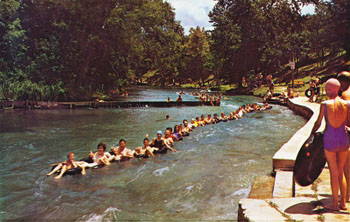 A little Internet trivia on this area:
tanned and all tired out!
Who could get tired of this beauty?
What about Mass??
St. Thomas the Apostle Catholic Church
was a fifteen minute drive from Lazy L&L up to the Canyon Lake. It didn't have views of the lake like I hoped, or 8:30 daily mass like advertised, but did have a lovely Communion service with a nice sermon on LOVE. The Adoration Chapel is peaceful and adorned with beautiful stained glass windows.